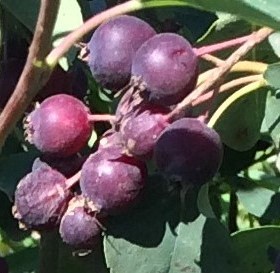 Peak Season:
Harvest typically starts towards the end of July and lasts two to three weeks
Picking & Handling:
Saskatoons are easy to harvest, prepare and store. There is no cutting, peeling, or pitting! Store berries in a cool refrigerator to prolong shelf life and reduce moisture loss.  Saskatoons should be consumed within 10 to 14 days of picking or they can be frozen for up to a year. When freezing, do not wash saskatoons before you freeze them.  Place berries on layer deep on baking trays, freeze, and then pack in plastic bags or containers. Rinse and drain the frozen berries just before using.
Nutritional Information:
| | | | | | |
| --- | --- | --- | --- | --- | --- |
| Calories | Protein | Fat | Sat. Fat | % Cal. Fat | Sodium |
|  80 | 1.0 gms | 0.5 gms | 0.0 gms | 0% | 0.0 mg |
| | | | | | |
| --- | --- | --- | --- | --- | --- |
| Carbs | Fibre | Vit. A | Vit. C | Calcium | Iron |
| 18 gms | 6.0 gms | 2% RDA | 6% RDA | 4% RDA | 6% RDA |
 (based on 1 cup of fresh saskatoons)
Saskatoons are considered a "Super Fruit." meaning they are rich in antioxidants, particularly phenolics, flavonols, and anthocyanins. Fruits high in antioxidants are thought to help fight cancer and heart diseases, as well as reduce age-associated oxidative stress and possess anti-inflammatory properties. Saskatoons have higher levels of antioxidants than blueberries, strawberries, or raspberries. Saskatoons are a naturally rich dark royal purple color which comes from anthocyanins. Saskatoons rank high in berries rich in anthocyanins (an antioxidant) with 562.4 mg / 100 g dry basis. Fruits rich in anthocyanins are thought to help reduce oxidative stress associated with aging, enhance heart health, improve cholesterol levels, protect against obesity, and possibly aid in the prevention of cancer.
Saskatoons are a high source of fibre. A 3/4 cup (100 gram) serving of frozen saskatoons contains 6 grams of fibre or 24% of the daily requirement. Fibre helps to reduce the risks of heart diseases, diverticular disease, and may possibly help defend against diabetes.
Saskatoons appear to be an excellent source of manganese, magnesium, iron, calcium, potassium, copper and carotene. Saskatoons can be considered a better source of calcium than red meats, vegetables and cereals. Saskatoons are an excellent source of iron. Saskatoons supply 33.8% of the Recommended Dietary Allowance of manganese and 7% of the Recommended Dietary Allowance of copper (in 100 gram serving). Saskatoons contain more than three times as much iron and copper in the same weight as raisins.
Facts:
The name Saskatoon is derived from the Cree word "Mis-sask-quah-toomina" which sounds similar to Saskatoon.  In the United States, saskatoons are referred to as Juneberries. Saskatoons grow on a shrub-like bush which can grow as tall as 10 feet in height. The Saskatoon is a member of the apple family and is very hardy.
Our Saskatoons:
We planted 2000 Northline Saskatoon bushes in 2013. Northline Saskatoon bushes yield superb fruit quality with large berry size and wonderful flavour. Even small younger bushes show great yields. We chose to plant Northline saskatoons for their very high yields, large berries, and excellent flavour. Northline Saskatoon flavour is described as full and sweet.
Click here to see some of our saskatoon recipes!
**Our saskatoon crop is looking good so far this year! We are excited to finally have a year where we have not sustained frost or drought damage and so are expecting to have saskatoons available for picking this year!